Colouring in books
As a kid I loved to colour in, and would spend many hours doing so, always in competition with my big sis as to who could colour in neater, she usually won now that I think about it!
So who creates these magic books that train kids to perfect their control over their felts and coloured pencils? It seems there are many who do but have you ever tried to create a colouring in book type image for young children to colour in? It's not as easy as it sounds believe it or not. I can see some of you now getting out a sketch pad and having a go! Even if just to prove me wrong! And that's ok, because some of you will get it straight away while others will see instantly what I mean, it all depends on your particular drawing skills to be honest.
I came across this situation years ago when out somewhere and my kids were bored. All I had at the time were some colouring in pencils and a sketchbook so I thought why not create something they could colour in and set to creating some simple artworks based on things they liked at the time. Over the years I've recreated this for other kids in similar situations and of course I got the hang of it with time and experience.
So why was it not simple and easy, well there are some things you need to consider-
Age of the colouring in person, you need to think about subject matter dependent on their age, as it needs to be appropriate and also interesting. For example a picture of a toy truck is going to leave little Miss girly girl unimpressed when she would be rather thinking about a favourite cartoon character or doll for instance.
Complexity, a simple drawing will work much better for a small child with a limited attention span and inability to colour within the lines, while the opposite is obviously going to entertain an older child for much longer and enables them to show off their colouring skills if it's got a lot more detail to work with.
Defined spaces, yes I know it seems simple enough but everything needs to be enclosed, you cant have lines going off into space like you would on a standard sketch, everything needs to have a start and a finish, the whole point being that the mini artist needs boundaries for colouring in.
Keep the lines consistent, don't be tempted to colour in yourself, if its bold and well defined its easier for them to understand where things start and where they finish.
Run the images through a vectoring programe if you intend to publish or make a more professional finsh as this neatens up the lines. I found I often had to go back into illustrator and retidy as vectoring would soften the corners too much or leave gaps where there werent any or were so microscopic from the original drawing that they didnt show up until this stage. It was time consuming but worth the effort especially for my digital colouring fans as any gaps would make their colouring efforts a lot harder.
Get some people to test colour the images, you will find at this stage that there could be errors you personally didnt see. My first attempts at mandalas showed me that I needed to make sure everything had an even amount of pieces as often people would alternate two colours and it would be infuriating for them to reach the last piece and it met up with the same colour.
Self-Publishing, visit kindle.com for help with this, it evolves constantly but it takes you step by step through the process. There are other platforms as well but I found this the easiest.
So there you go, I challenge you all to try your hand at this and send me your sketches, I'm really interested in seeing what you come up with, we may even be able to create a colouring in book for little kiwis that we can put on-line and people can print off to their hearts content. So let's look at kiwiana and things that will appeal to our little corner of the world. I look forward to seeing some interesting concepts from anyone keen enough to give it a try and Ill publish the best ones with your name credited as the artist.
Update - adult or grownup colouring books became the rage in the early 2000s. while laid up with breast cancer and unable to paint I created my first grownup book - The Dress Book. Full of retro style gowns. its still available on Amazon and you can purchase it by clicking on the image below to visit Amazon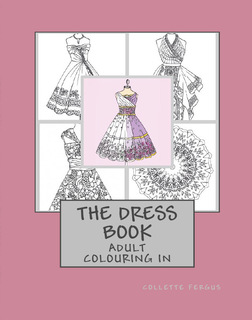 This lead to a series of dress books and it didnt end there, a series of Chardonnay Minx aka boozehag along with various other stand alone colouring books, A fan club was created by a group of American fans and my books became popular internationally. Have a look on Amazon for the whole rangee if you are keen to see what I created and maybe buy one or two as well.
https://www.amazon.com/Collette-Renee-Fergus/