I have had a play with glass painting in the past, doing my own hand-painted Boozehag wine glasses and so on. I've even used the glass paint in my artwork in mixed media pieces where I wanted a high gloss transparent and glassy finish, with a pleasing result.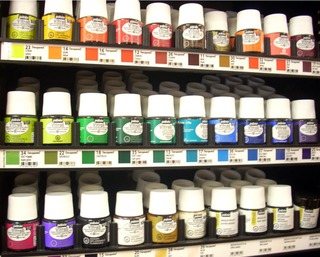 I get my glass paint from Gordon Harris or Spotlight who both stock the range of Pebeo Vitrail Glass Paint and Pebeo Vitrea 160 Glass Paint, the former having twenty six transparent, luminous colours for use on glass and metal. The Vitrail colours have an incomparable roundness and brilliance and the colours are intermixable so you can create your own hues for an original finish. The Vitrea 160 has thirty transparent colours to use on glass, which include glossy or frosted versions, the Vitrea 160 water based colours are professional quality and easy to use. There is also another more important difference between the VITREA and the VITRAIl Vitrea 160 is water based, while Vitrail is a solvent based glass paint. Vitrea 160 is intended to be baked in the oven to achieve permanence quickly, while you should not ever bake the Vitrail Paints, as solvents are flammable. Once Vitrail is dry, it is permanent, its ideal for those big projects like glass doors or windows that cant go in the oven anyway.
After baking at 160°C in a domestic oven, the paints are dishwasher safe, this one clearly not for working on canvas art as you cant bake it to set unless you want burnt canvases of course! So here you would use the Vitrail solvent based one.
When using glass paint, the adhesion and durability of your paints are very important for items that you might use often and may need to be put in the dishwasher etc, things such as wineglasses, plates and jugs (although I dont recommend it from experience as I've had some peel off when put in the dishwasher.). Paints that have been baked are more durable then those that are not so for these items Id use the Pebeo Vitrea 160 range. If the piece is only for decorative purposes like a rarely to be used vase or an ornament, then an air dry paint will work fine but its not necessary and the baked ones have a larger range of colours to choose from. Other than Pebeo you can get Liquitex Glossies which are air-drying paints, although this one can also be baked to increase the durability.
The Application of glass paints
Glass paints can be applied with a brush. If you are not quite at free hand level then try using stencils or patterns. Simply place the chosen paper pattern on the inside of the glass and paint the design on the outside of the glass. Stencils and transfers can make application even easier, all you do is place the stencil on the glass and apply colour with a brush or an applicator sponge.
In most glass paint ranges you can also get paint marker pens, these make the application even easier again. The Pebeo's Vitrea 160 line has eighteen different markers, nine which are glossy and nine which are frosted colours. They are bullet tip markers and are great for any detailed work, writing words and for quick projects. The markers are really good for beginner painters as well as children and are bake-on like the paints so are absolutely durable once baked too!
Helpful Hints
1. Make sure the glass is clean before painting.
2. Read and follow all instructions carefully for the paint product selected. Some paints can require an undercoat as well as an overcoat.Vitrea 160 and Liquitex Glossies only require one coat.
3. If baking make sure you=place the glass in a cool oven, allowing the oven to heat to the desired temperature; using a timer bake for the required time. Then allow the piece or pieces to cool down before removing from the oven.
4. If you make a mistake then simply wipe off prior to baking, most brands will allow this step if needed. Use warm water or alcohol.
5. Clean all your brushes and tools with soap and water. If you are using an acrylic based paint make sure to clean the brushes immediately after use as like acrylic paint once dry its permanent and hard to clean out.
6. Use a sponge if you need to paint an entire piece all one colour, it gives the best overall, even coverage.
7. Many effects can be obtained using mediums, accessories and auxiliary products. Pebeo's Vitrea 160 line offers frost medium for frosted effects, iridescent medium for iridescent effects and crackling medium for crackled effects. The Vitrea 160 paint line offers a selection of both frosted and glossy colours as well as ten colours of dimensional outliners for adding designs which have a puffy 3 dimensional appearance.
8. Its not a good idea to intermix brands as each one has a different formulation and sometimes combinations of the products could result in rather undesirable effects.
The main image is of a stained glass window in my lounge. Its a beautiful piece but I didnt like the choice of baby pink glass in it so I painted it red with glass paints. This image is 20 years on and its still doing well. I used the Pebeo Vitrail air dry glass paints as I couldnt put the window in the oven.
If you found this information useful please consider a small donation by clicknig on this button to go to my kofi.com page