A long artistic heritage almost guaranteed Collette Renee Fergus would have an interest in art and so it proved. She began painting young, prevailed on family and neighbourhood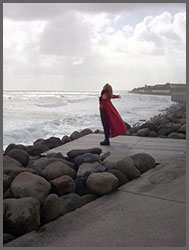 artists for lessons, and revelled in their skill and knowledge. At 11 she sold her first artwork, a watercolour of Mount Taranaki/Egmont, New Zealand. At 16 she took night school classes in oil painting, her subject matter still mostly New Zealand scenery. She exhibited often and at 17 the now Waikato-based artist had her first solo exhibition in Auckland, New Zealand. Eschewing formal training and the artistic style and methods of others, Collette developed a unique style early. She believes the growing popularity of her art can be attributed directly to this individuality.
Picasso, Dali and Kandinsky have latterly influenced her style. From the early 1990s Collette has worked in acrylics, attracted by their quick drying properties and the ability to incorporate texture. She uses bright, funky colours on any subject that sparks her imagination, and enjoys the surrealist concept in her art these days. Texture remains important and Collette uses anything from pumice and black sand to artist quality texture mediums.

Known for her modern, contemporary artwork,Collette has two distinct styles: her serious, abstract and surrealist work, and a fun, contemporary range that includes an increasingly infamous character - Boozehag, now re-branded as Ms Chardonnay Minx, the glamour girl, who is more about nice things and fun rather than the wine. Collette is also a popular New Zealand commission artist with an ability to accurately interpret clients wishes. Her artworks sell worldwide, including private collections in Britain, Germany, Russia, USA, Canada, Spain and Australia, as well as from galleries throughout New Zealand.
Collette finds painting extremely rewarding and puts her heart and soul into it. She finds it most satisfying to portray emotions and feelings on canvas in a visual communication. Shes humbled by appreciation of her work.