Click on the image below if you want to know other details about Pablo Picasso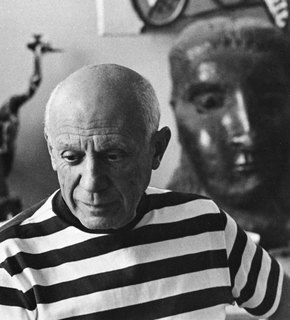 Only my all time favourite artist. So what do I know of Mr Picasso? Well I'm not going to give you a tiresome rundown on the man's history, there are many websites and books that can give you that sort of information, instead I'm going to give you my version.
I first became of aware of Picasso's artwork while painting pretty scenic paintings at a night school class I attend way back in my teens. Another artist (Who wasn't in our class.) scoffed at our work calling them chocolate-box covers and said we should check out some real art….so I did. I didn't much like what I saw at the time, especially Picasso, as I thought his work was weird and childish and I really didn't understand it at all. It took until my early 20s when I became more interested in art that challenged my mind and didn't want to paint simple scenes that were in front of me anymore; I wanted to do something that made me think outside the square, something that was a little more challenging than copying what I saw in front of me. Don't get me wrong, Im not knocking people who do realist work, it just wasn't for me. I did some study on abstract and contemporary artists; with the cubist style being of particular interest to me at that stage and as Picasso was a pioneer in this field his work presented it self again. Works that once appeared crazy and weird suddenly sprung to life, I understood their meaning and what Picasso was trying to say.
A famous quote of Picasso's is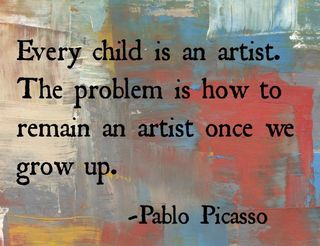 He believed that children held the key to creating great work and that keeping art forms simple was where it really lay. His art clearly shows this belief with its simplistic forms and hey the guy was famous, he sold a lot of work both in his lifetime and still for millions today, so who are we to say his work is bad?!
Trying to explain Picasso's work in a nutshell is best said by him, a quote
"Are we to paint what's on the face, what's inside the face, or what's behind it?"
It explains a bit about why he has so many ears, eyes, noses etc in his work, and things like why is the back of someone's head just as interesting as the front? Well why not put it all in? So he did.
I mentioned the other day that I had to trace a copy of Picasso's 'Guernica', the huge battle scene that depicts the bombing of Guernica, in Spain by German and Italian warplanes in 1937, during the Spanish Civil War. This project showed me how much I must be influenced by his work although I have always tried to maintain my own style and direction.
I have to confess that I have done a copy of one of Picasso's paintings, it was 'Girl before a Mirror,' a brightly coloured artwork that really appealed to me, I painted it for the Fakes and Forgeries exhibition in Mangaweka, New Zealand 2009. Other than to enter the show, I also did this piece so I could own a Picasso, its not a print its a real painting after all….its just one that I've signed! You can see my version here – I love this piece and it has pride of place amongst my collection of works both by myself and other artists.
Anyway enough about me…lets talk about Pablo (Did I mention I named my cat after him too and yes he even helps me paint sometimes, usually its just the carpet or floor but he still seems keen on being around paint and sleeping amongst the canvas's) Heres a painting I did of him titled "Mousecatcher"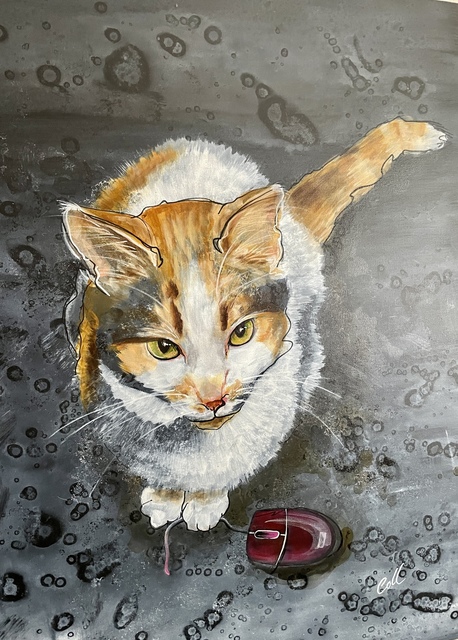 Here are a few interesting facts-
Pablo Ruiz Picasso
His full name was….wait for it……Pablo Diego José Francisco de Paula Juan Nepomuceno María de los Remedios Cipriano de la Santísima Trinidad Clito Ruiz y Picasso
He was born on the 25th October, 1881 in Malaga in Spain.
His father Jose Ruiz y Blasco was a painter and a professor of art at the School of Crafts and the curator of a local museum. Picasso learnt the basics of art from his father. Picasso also attended the Academy of Arts in Madrid, but dropped out within a year of joining it.
In 1900 Picasso went to Paris for the first time, times were hard while living there and Picasso and he was forced to burn many of his paintings just to keep himself warm. I cringe at the thought.
All the paintings by Pablo Picasso are usually classified into various 'periods' based on the moods and styles of the paintings. These, in turn, were largely affected by his personal and love life.
His real work and career as a painter is said to begin around 1894 with a painting called 'The First Communion'.
Most of his art career was split into various 'periods like the Blue Period, the Rose Period, Analytic Cubism Period and his African Influenced Period for example, these were said to be influenced by his moods along with the styles of the artwork.
1909 to 1912 is called Picasso's Analytic Cubism Period. This style of painting was developed along with Georges Braque and was characterized by the use of monochrome brown colours. He took the objects apart and analysed them within the medium of his paintings.

His love life was of great fascination to his fans, starting with Fernande Olivier in 1904, who appears in some of his Rose Period Paintings. Picasso left her for Marcelle Humbert, who he used to call Eva, and declarations of his love for her are seen in his Cubist paintings.
In 1918, Picasso married Olga Khokhlova who was a ballerina in Sergei Diaghilev's troupe. Picasso was designing a ballet for him called 'Parade' in Rome. They had one son, called Paulo. Her socializing and Picasso's bohemian lifestyle clashed often and their marriage was not successful. They separated when Picasso began a secret affair with 17 year old Marie-Therese Walter. Since the French Law required that Picasso give half of his property to Khokhlova upon divorcing her, and since Picasso did not want her to have half of his wealth, they never divorced, but remained separated till she died in 1955. I recently read a book written by his grand-daughter (Paulo's second child.) where she talked about her relationship with her grandfather which was fraught with conflict and isolation from him. She ended up being the main heir to his fortune and still runs the empire to this day.
Picasso continued his affair with Maria-Therese for a long time, and even had a daughter called Maia with her. She lived in the hope that he would marry her some day, which Picasso never did. Four years after Picasso's death, Maria-Therese hung herself.
Photographer and painter Dora Maar was also a constant companion and a lover of Picasso during the 1930s and early 1940s. She even documented the painting of the 'Guernica'.
In 1944, Picasso began an affair with a young art student called Francoise Gilot. They had two children, Claude and Paloma. She was the first woman in Picasso's life who left him because of his many infidelities. This was in 1953. Picasso was greatly disturbed by this. He was in his 70s now and began to see his old age from a very depressing point of view.
He had a six week long affair with a beautiful and young girl called Genevieve Laporte, probably on the rebound.
Then he met Jacqueline Roque who worked at Madoura Pottery where Picasso made and painted ceramic art. They were together till Picasso's death. They married in 1961 so that Picasso could take revenge on Gilot.
Gilot, with Picasso's encouragement, filed divorce with her husband and then was going to marry Picasso in order to legitimize the status of her two children and secure their rights. But when Gilot filed the divorce papers, he went ahead and secretly married Roque to foil her attempts and thus got revenge for her leaving him.
Pablo Picasso died on the 8th of April, 1973 while he and his wife Jacqueline were entertaining friends for dinner. His last words were: 'Drink to me, drink to my health, you know I can't drink anymore.'