Party on a champagne cork with Chardonnay Minx in 'Let's Celebrate'—a Boozehag masterpiece now living its best life in someone else's house!
Sorry you can't snag this bubbly babe, but no worries, commission your own personalised Boozehag from Collette. Picture your wild tales, then add a dash of champagne mischief.
Chardonnay Minx, the brainchild of the absolutely fabulous Collette Fergus, an NZ artist, emerges from Hamilton's wild nights.
When it comes to Boozehag, imagine a Lisa Simpson vibe and 'Absolutely Fabulous' glam all rolled into one—and you have our wine-swigging, joy-pursuing heroine!
Take a look into the Boozehag series in the SOLD Paintings gallery (last two pages, although there are many more than what's featured!) There are over a hundred pieces, and in the POP ART gallery, you will find some new pieces that are practically begging to be discovered.
Unleash your inner art connoisseur and dive into the self-expression journey with a Chardonnay Minx piece. Collette will make it uniquely you. Get in touch, darling!
Ans while you're here, here's a lttle tipple for you from Boozehags own cocktail recipes:
Boozehag's Bubbly Brew:
1 cup of your fanciest champagne (sip with pinkies up, darling)

A playful ounce of elderflower liqueur (because Chardonnay deserves a flirt)

A sassy twist of lemon peel (for that extra zing)

Fresh berries to make your bubbly dance (it's a berry boogie, baby)
Cheers to the fabulous, fizzy world of Chardonnay Minx—where laughter is the best accessory, and champagne is served with a side of mischief! Sip, sparkle, and keep the celebration bubbly!
Oh and take a look at the Cork Art Competition while you're here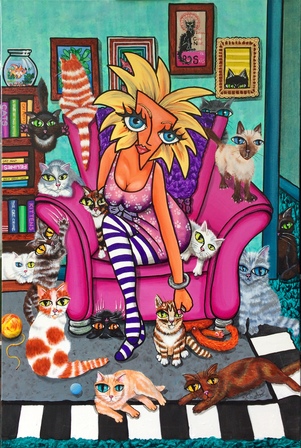 Crazy Cat Lady by Collette Fergus