If You Ever Needed a Good Excuse to Open a Bottle of Champagne,
here's an excellent one
You can take part in the annual DWR Champagne Chair Contest of course!
it's never too early to start creating; but keep in mind, competition is fierce!
The Annual Champagne Chair Contest by Design Within Reach (DWR) always brings out the most creative attempts for what you can do with a cork and a bit of wire.
The rules are simple yet strict -
Using only the foil, label, cage and cork from not more than two Champagne bottles (Doesn't mean you cant have more than one or two entries though!)
contestants must create an original miniature champagne chair.
No use of tape, glue or paint
If this sounds like a bit of you and you would like to participate next time its on, then click on image below. It will take you to the DWR website where you can get more details on how to enter and when the next competition starts.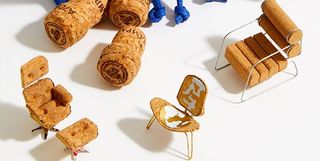 Click here - DWR COMPETITION WEBSITE
I was really impressed by this concept. Being infatuated with miniature things like furniture is probably related to the doll house I had as a child. I used cardboard, cotton reels, paint, fabric, and anything else I could find to make extra bits and pieces for my dolls. During the construction of my dollhouse, I decorated the miniature sheets with embroidery.
There was also that visit to the miniature world of Lilliput in Napier, which sadly is no longer operating. More than just miniature trains, they had miniature trees, people, and everything else you could imagine. I was captivated by the multi-leveled doll houses with working lights and retro-style settings. It left an impression on me, and I have never forgotten it. The image below is of a similar one in a museum collection in the United States. View close-up images on their website by clicking the image.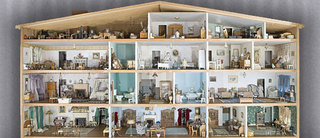 As is no secret, champagne is my favorite drink, as its my character Boozehag aka Chardonnay Minx, and it keeps my interest a little bit here too. Secretly, I doubt I could create anything amazing with a champagne cork besides a worthy hangover. But I'm prepared to support and admire these creative artists by sharing the love. I'm excited to let more of you know that it doesn't just end at the bottom of the wineglass!
I've followed this competition for a few years now and have seen some amazing work done.
Can you just see a life size version of some of them in your house, I certainly can but then I like an eclectic range of things in my life.
If I had to choose, I'd say I love the Cork Chair with Footstool in the first photo at the top of this page and then the super colourful van Gogh chair in the photo below, but it's very hard to pick my favorite.
Many of these people make some seriously talented chairs. I'd love to know which one you like best, so leave me a comment

And don't forget to check out Boozehag, shes a champagne loving cork riding hell raiser, charcter I created and have completed many commissioned artworks of