If you ever needed a good excuse to open a bottle of champagne, here's an excellent one: to take part in the annual DWR Champagne Chair Contest. it's never too early to start creating; competition is fierce!
The Annual Champagne Chair Contest by Design Within Reach (DWR) always brings out the most creative attempts as to what can do with a cork and a bit of wire. The rules are simple yet strict: Using only the foil, label, cage and cork from not more than two Champagne bottles (sorry!), contestants need to create an original miniature champagne chair.
Click on image below to go to DWR and enter the competition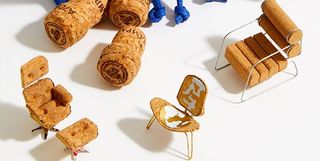 The entrants are not allowed to use tape, glue or paint so they have to really think about what they are doing.

Now and then I come across some new and innovative ideas and this just simply impressed me. I love miniature things especially furniture and wow who doesn't love champagne, well I love it so I'm in. I doubt I could create anything amazing from a cork other than a worthy hangover but I'm prepared to support and admire these creative artists.
My favourite is the baroque style chair but I am impressed by many more…..let me know what one is your favourite.