Its Easter time and just because my friend Toni asked Im going to talk about Faberge Eggs!
So lets head way back in time to 1885 when Tsar Alexander III thought he would give his wife the Empress Maria Fedorovna an Easter Egg (It was thought was also to celebrate the 20th anniversary of their betrothal.) Apparently the inspiration for the creation of this egg was from another owned by the Empress's aunt, Princess Wilhelmine Marie of Denmark, as it had captivated Maria's imagination when she was only a child.
The egg created for the Empress was made from gold. Its opaque white enamelled 'shell' opens to reveal its first surprise, a matte yellow gold yolk. This in turn opens to reveal a multi-coloured gold hen, that also opens. It contains a minute diamond replica of the Imperial Crown from which a small ruby pendant was suspended. Sadly the last two surprises in the egg ended up lost and no one knows where they ended up.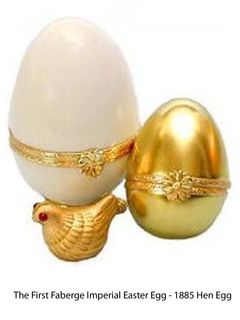 Empress Maria was so delighted by this gift that Alexander appointed Peter Faberge the 'goldsmith by special appointment to the Imperial Crown'. The Tsar continued to commission eggs, their designs become more elaborate over the years. According to the Faberge family tradition, not even the Tzar knew what form they would take: the only stipulation was that each one should contain a surprise.
The Imperial eggs enjoyed great fame, with Faberge making other large eggs for a few select private clients, including the Duchess of Marlborough, the Nobel's, and the Rothschild's. Among them is a series of seven eggs made for the industrialist Alexander Kelch.
There are many eggs around claiming to be Faberge but unless they are made by the House of Faberge they are only imposters to the name, whether well made or not. Authentic eggs were only made between the years 1885 through to 1917, so new ones are definitely not real Faberge. The majority of eggs made by Faberge were miniature ones that were popular gifts at Easter time. They were normally worn on a chain around your neck and it wasn't unusual to have more than one, kind of like a charm bracelet which you would have added to. The most famous eggs produced by the House were the larger ones made for Alexander III and Nicholas II of Russia. Of the 50 made, 42 have survived.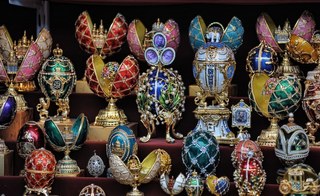 Faberge eggs are made of precious metals like gold or silver and decorated with hard stones. Often they had combinations of enamel and gem stones. The term "Fabergé egg" has become a synonym of luxury and the eggs are regarded as masterpieces of the jeweller's art. The Faberge Imperial Easter Eggs are regarded as the last great series of commissions for objets d'art.
Peter Carl Faberge (pictured below) died in 1920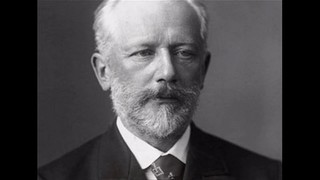 In 2004 a collection of nine eggs, and approximately 180 other Faberge objects were put up for auction at Sotheby's by Forbes' heirs. Before the auction even began the collection was purchased in its entirety by the Victor Vekselberg for a sum estimated between $90 and $120 million.
Check out my Eggcellent Eggs Colouring Book on Amazon where the main photo above is from, featuring some beautiful faberge style eggs to colour - click on image to visit amazon