ATC's or Artist's Trading Cards
I only recently heard about these miniature works of art and what they are about. The concept is to create trading cards to swap with other artists that are a uniform size as
2 ½" x 3 ½" 6.4cm x 8.9cm (Or regular playing card size.) and swap it for someone else's.
They are not meant to be miniature masterpieces as you need to be prepared to swap them happily with other cards however some effort is expected to be put in!
Some groups encourage artists to cover their cards up i.e. put them in envelopes so you don't see them until you get home and it's a surprise which I think is a good idea.
It's a good way for visual artists to network, so instead of standing around wondering what to say to each other, you can discuss your ideas and concepts and show your collection of pocket sized artwork that you have received from others!
There are many sites dedicated to this, the original one being
http://www.artist-trading-cards.ch/ where you will find all the info you could possibly need.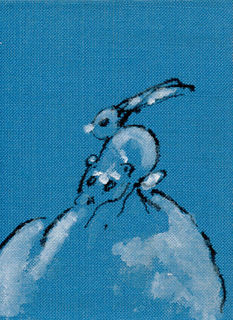 On the front of an ATC an artist creates an original work to showcase their art. It can be a one-off, part of a series, or a limited edition. On the back the artist puts their name, contact details, title of the ATC, number if it's a limited edition, and if you choose to, the date that it was created.
Artist trading cards can be made in any medium and using any technique, whether it's painting, drawing, or collage, try www.google.com for images of others efforts if you are not sure what to do. You're only really limited by your imagination and materials.
Who you trade with and whether you trade one of your card for one of someone else's, or think it's more valuable and want multiple cards, is up to you. You can also trade cards you've received if you don't want to keep them. The whole aim is to be creative and communicate with other people being creative.
Regular trading sessions are organised in larger cities all around the world and although face-to-face trading fits the original intention of artist trading cards better because you're meeting new people, it often is done by post as well.
Some are created for selling and you need to be aware of the difference. An ATC created with the intention of selling it is known as an ACEO (short for Art Cards, Editions and Originals). These ACEOs are usually sold on EBay.
There is the debate between the two groups of whether or not these cards should be sold and you don't want to get caught up in that situation if you can help it!
Facebook has many groups, this is one I recommend - https://www.facebook.com/groups/ATCpage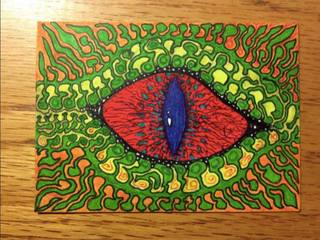 These sites here shows you how to get started
http://www.wikihow.com/Make-Artist-Trading-Cards
http://www.altered-art.net/make-artist-trading-cards-2.html
So what are the rules?
1) The size of 2 ½" x 3 ½" 64cm x 89cm
2) Original artwork by you.
3) Not to be sold.
And that's it! Simple isn't it.