There are not a lot of big events that happen in Hamilton, but one that does every year is the Balloons over Waikato where hot air balloon enthusiasts from all over the world converge on Hamilton where they spend a week flying their colourful balloons through the crisp cold Waikato skies, to the delight of all ages.
It's not unusual to see people stop in the middle of the street staring up at the sky during this event and I certainly know there's a balloon nearby when the primary and kindergarten kids next door start up their excited chatter, jumping up and down and squealing to the balloon occupants who often wave back to them. We sometimes even have the balloons stop or start from the school field at the back of our property so no need to go racing down to the lake at an ungodly hour to watch for this artist!
Each year there are special shaped balloons featured and this year 2010 there will be the Resene 'Show off your Colours' Peacock, 'Shroom with a View' which is a Mushroom house (In the main image) and the WEL Energy Trust 'Jack N.D. Box, he's 12 stories high so he's no shrinking violet!
A special feature each year is a night glow where all the balloons are lit up together at a festival by the lake; thousands of people attend this event where they have other entertainment including bands etc.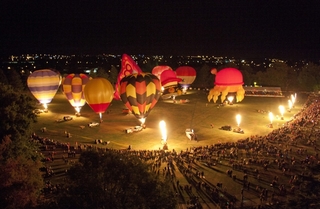 You can go for a flight in one of the balloons if you wish (At a cost of course!) and the rest of the daily events can be viewed here at Balloons over Waikato of which attendance is FREE!!!
At the gallery we often see an influx of new balloon paintings arrive in just before the festival, and it's a common thread or subject choice in any artwork that is promoting the region.