Caricatures
Lots of refashions happening but none at the finished stage so this week I'm focusing on the caricatures I've been doing. I don't get a lot of time for art at present and its become an issue as you would know from my other entries that I see art and the creation of it as similar to breathing, us artists simply must create to feel any sense of being. I've found a small window of opportunity in my lunchtime breaks at work and manage to get a caricature created in that short time span each week. The use of watercolour means it dries quickly and I don't have to worry about getting in the way of the other staff sharing the small area we have.
This week I chose Miley Cyrus, a colourful character with unusual hairstyle choices and a constant desire to poke out her tongue, making her otherwise pretty but generic features much easier to personalise!
I've been at this for seven weeks now and these are some my victims
Paul Henry
Winston Peters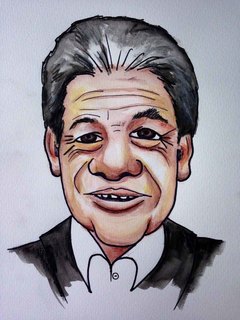 My favourite so far John Key
John Campbell
I know Ive got a long way to go before Im really good at these, but for now Im having fun trying to capture people and immortalise them in caricature style. Any ideas on who do next please let me know, Im always open to suggestions!