For an artist working vertically at an easel creates a more accurate finish to the painting you are working on in that you are working in the same plane as what the painting will finally be hung. It reduces the risk of spilling anything on it, and helps prevent dust collecting on it. Most artists prefer standing at their easel however you can work sitting on a stool. Standing at an easel makes it easy to step back to see how the painting is progressing.
So what type of easel is best for you?
It really depends on what type of painting you do the most. For instance a water colour artist wouldn't really want to use an easel at all while someone working on large scale oil or acrylic paintings would find a floor easel best and artists who work on smaller scale paintings would find a table top more suitable. Me, well I have several types as I like to vary my work and painting locations. Its best to invest in a heavy duty easel if you like to paint very vigorously, as you will require extra stability and someone who works outdoors would require an easel that folds up and is light and easy to transport to places.
What is an easel? An easel is an upright support used for displaying and/or fixing something resting upon it. They have been around since ancient Egyptian times, with references being made of them as early as the 1st century.
What is an easel?
An easel is most often used to hold up a painter's canvas while the artist is working on it or to display a completed painting for exhibition. The simplest form of an artist's easel is a tripod; tripod easels consist of three vertical posts joined at one end. A pivoting mechanism allows the centre-most post to pivot away from the other two, forming the tripod. The two non-pivoting posts have a horizontal cross member on which the canvas is placed. An easel can be full-height, designed for standing by itself on the floor or table top easels which are designed for use on a table. Easels are typically made from wood, aluminium or steel. The difference in material can often be because of the need to transport them around. A heavy studio type easel is not going to be good for en plein air painting where the artist works out in the open and may need to drag it up a hill or for long distances.
There are two common designs for easels:
The Tripod design (As mentioned above.) which are based on the three legs format. Variations include crossbars to make the easel more stable and an independent mechanism to allow for the vertical adjustment of the working plane without sacrificing the stability of the three legs of the easel
The H-Frame designs which are based on right angles. All posts are generally parallel to each other with the base of the easel being rectangular. The main portion of the easel consists of two vertical posts with a horizontal crossbar support, which gives the design the general shape of an "H." Variations include additions that allow the easel to be verticality adjusted. These are more stable than the tripod easels.
….and what do we use easels for?
In the Studio - easels are meant for use in the artist's studio where there is not so much need for the easel to be portable. Studio easels can be simple in design through to very complex and can include winches, multiple masts and be on casters for ease of moving around. The largest easels are studio easels with some being able to support weights of over 90kgs and panels larger than 2 metres in height.
Portable – or field easels which are meant to be easy to carry and set up for the creation of en plein air work (On site out doors art work.). These easels are usually mid-sized or small, and have telescopic or collapsible legs and are usually based on the tripod design. French box easels include a compartment in which to store your art supplies conveniently along with a handle or strap so that the French box may be carried like a briefcase or a backpack. French art boxes are good in that you can leave the painting attached to it to carry back home so less risk of damage. I personally had a box version that I used for art classes, not only was it good for carrying the paints, brushes and mediums but it would hold a canvas on the front which I didnt have to handle when putting it in my vechile, a very messy experience if you are using oil paints and its not dry,trust me I know!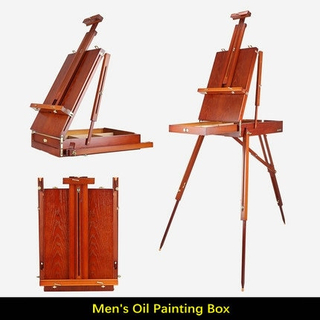 For Display - these easels are really only meant for the display of finished artworks. They tend to be very simple in design with less concern for the stability needed by a working artist so they will often not have all the bells and whistles to hold your canvas tightly which is important while painting. Display easels can vary in size and sturdiness depending upon the weight and size of the object to be placed on them. Most should say what size and weight they can hold but if not sure ask the assistant as they should know this sort of thing and be able to advise you. They often have nothing to secure the canvas or picture at the top and made of flimsy light materials like aluminium. Although cheap you will regret buying and trying to use one of these for creating work on.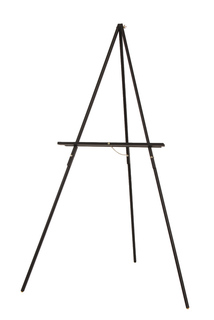 Over the years I have had many different easels, my favourite being my studio easel that adjusts from vertical to horizontal. Some of my work involves adding mixed media that needs to pool rather than drip, so when it's lying flat it helps a great deal with that.