Do you have an artist or in your life that you're struggling to find the perfect gift for?
Often people don't know what an artist would find appealing other than the usual gift vouchers or socks, perfume, aftershave, jewellery or chocolates. So what can you get more in line with their chosen art activity?
Whether they're an experienced creator or just starting out, we've got you covered with these fantastic gift ideas.
Artists always need a high-quality sketchbook to have a reliable place to capture their ideas. Look for one that has heavy-weight paper that can handle a variety of art mediums as well as a hardcover to protect their work.

A good set of professional artist pencils can make a massive difference in the quality of an artist's work. Look for a set that includes a range of graphite hardness levels so that they can create a range of effects. Ask at your local art store for advice on what levels are perfect, but most sets tend to have a good range available.

Artists always need a good set of top-notch paintbrushes, and high-quality brushes can be the perfect game-changer. Look for brushes designed for the artist's preferred medium and made from premium materials. Good quality brushes last a lifetime, and you can pop in a bar of artists' soap, as this is an excellent idea for keeping them in tip-top condition. Check out my post on choosing the right brushes.
A complete set of paints. Painting is all about colour, so a set of high-quality colours in various hues, although sometimes expensive, can be an excellent gift idea. Consider the artist's preferred medium and choose a set starting with the basic colours they can mix from.

Check out my post on choosing Paints

.

Inspiring Art Books can provide valuable inspiration, techniques, and tips for artists regardless of skill level. Choose a book that aligns with the artist's preferred medium or style, and they'll be sure to find something new to try. Another option is a subscription to an Art magazine that specialises in their work medium.

An easel can be a valuable addition to any artist's workspace; they provide a stable surface to work on, helping them to achieve the correct angle they need. Look for an easel that is adjustable, sturdy, and made from quality materials. Check out my post on easels for more information.

An art class or workshop is also a great idea. Many artists are always looking to improve their skills, so why not give them the gift of learning? Sign them up for a class or workshop in their preferred medium, or provide them with a gift card they can use at their local art school.

Help them save their clothes by buying them an artist's apron. It doesn't matter if they use paint or create sculptures, most art is messy, and I'm sure they would thank you for such a thoughtful gift.

Consider some unique and creative options, like an art mannequin or a pen holder designed to look like a giant pencil sharpener. Specialty carry bags for artwork or supplies can be a great gift. Art stores often have fun gift ideas each Christmas that are inexpensive, so check them out.

Choosing the right gift for someone can be a daunting task. In such a situation, a gift card to a local art supply store offers a safe and reliable option. It not only takes the guesswork out of gift-giving but also guarantees that the recipient will be happy with their choice. This way, the artist can choose what they need for their next project.
Remember, the most important gift you can give to an artist is your support and encouragement for their creative endeavours. These gift ideas are just the icing on the cake.
Artists Aprons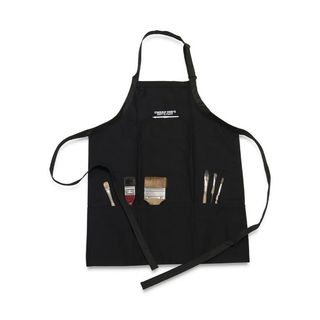 Click on this image below to see a wonderful list of artists gift ideas and where to buy them
Artists Magazines