Uncover the gems of New Zealand's art scene with this captivating and comprehensive list of the most famous New Zealand paintings.
Some pieces are my own opinion but most are curated from a blend of extensive research as well as my own personal insights gained from working in the arts industry, in new Zealand. These artworks have left an indelible mark on the creative landscape and continue to captivate art enthusiasts worldwide.
Dick Frizzell's "From Mickey to Tiki"
Showcased in the first image is Dick Frizzell's whimsical and thought-provoking "From Mickey to Tiki." This iconic artwork showcases the transformation of the beloved cartoon character 'Mickey Mouse' into a traditional 'Tiki,' seamlessly blending pop culture with indigenous influences. It's humorous undertones and clever execution make it an absolute delight for art lovers.
Rita Angus' "Cass"
Next is Rita Angus' "Cass," a piece that was voted the most famous artwork in New Zealand by New Zealanders in 2006. This painting depicts an old railway station against a majestic mountain backdrop, with a solitary figure providing a sense of solitude and contemplation. Its enduring popularity as a print is a testament to its timeless appeal and evocative power.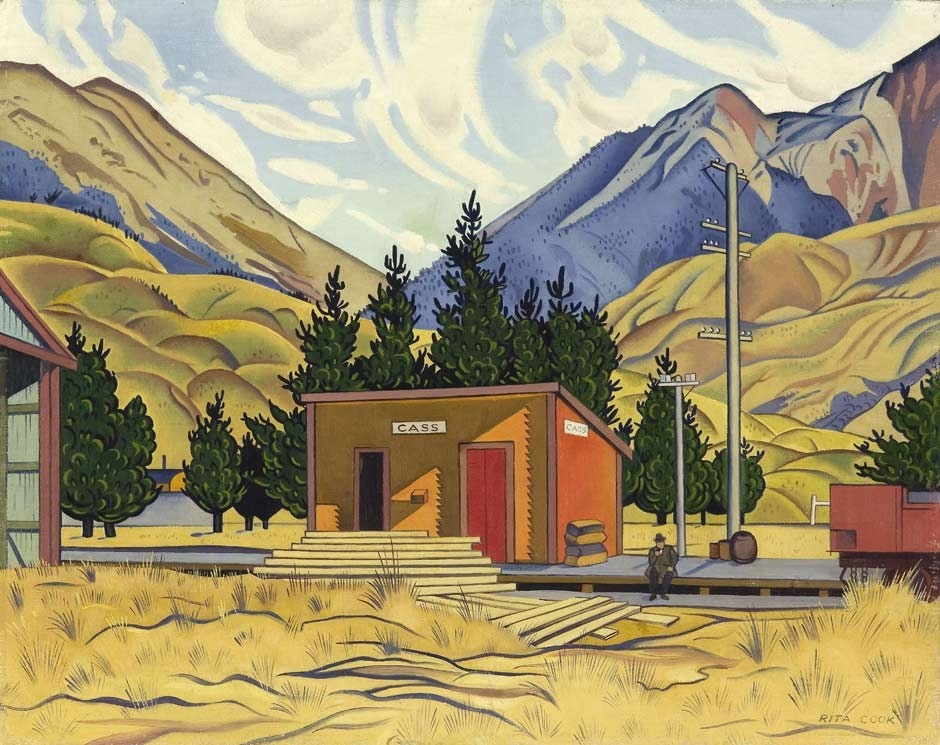 Charles Goldie's "All 'e Same the Pakeha"
Moving on, we come across Charles Goldie's "All 'e Same the Pakeha," a famous portrait that showcases the striking features of Te Aho-te-Rangi Wharepu, a member of Ngati Mahuta. Known colloquially as "A Good Joke," this artwork beautifully captures the nuances of cultural identity and raises questions about the complexities of race and heritage.
Frances Hodgkins's " Mother and Child"
Although officially titled " Woman and Child," Frances Hodgkins's " Mother and Child" is a mesmerising portrait that celebrates the eternal bond between a mother and her child. With delicate brushstrokes and a tender depiction, Hodgkins showcases her artistic prowess in capturing human emotions and the intimate moments of everyday life.
Robyn Kahukiwa's "Matariki"
Robyn Kahukiwa's "Matariki" takes us on a celestial journey, where the Pleiades constellation, also known as Matariki, assumes the role of a mother surrounded by her six children. This vibrant artwork pays homage to the rich Māori traditions and their deep connection with the celestial world.
Colin McCahon's "Northland Panels"
Colin McCahon's "Northland Panels" is a testament to his artistic genius. This awe-inspiring series of eight monumental panels housed in Te Papa showcases McCahon's exploration of spirituality and the dramatic landscapes of Northland. Each panel is a captivating visual narrative that demands contemplation and reflection.
J.C. Hoyte's "The Pink and White Terraces"
J.C. Hoyte's "The Pink and White Terraces" offers a glimpse into the past, capturing the ethereal beauty of the now-extinct natural wonder. Hoyte immortalises this iconic landmark through delicate brushwork and an exquisite colour palette, allowing us to appreciate its grandeur even in its absence.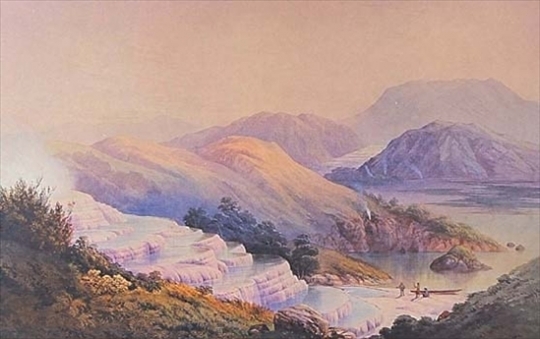 Bill Hammond's "Jingle Jangle Morning"
Bill Hammond's enigmatic "Jingle Jangle Morning," also called the "scary bird man" series, showcases his unique artistic vision. The recurring theme of bird-like figures evokes a sense of mystery and intrigue. At the same time, the title pays homage to Bob Dylan's iconic song "Hey Mr Tambourine Man." Hammond's imaginative approach and dark undertones leave a lasting impression on the viewer.
Robyn Kahukiwa "Hongi"
Robyn Kahukiwa makes another appearance with "Hongi," a stunning screenprint that captures the essence of the Māori way of greeting. Bursting with vibrant colours, this artwork celebrates cultural traditions and serves as a visual testament to the beauty of diversity.
Grahame Sydney's "Timeless Land"
Grahame Sydney's "Timeless Land" transports us to the mesmerising landscapes of Otago, where his artistry shines through. While some may have personal preferences, such as "Wedderburn" or "Auripo Rd," "Timeless Land" remains a crowd favourite, showcasing Sydney's ability to capture the essence and grandeur of New Zealand's natural beauty.
Charles Goldie's "Ina Te Papatahi"
Charles Goldie's "Ina Te Papatahi" introduces us to a Ngapuhi Chieftainess whose portrait serves as a precious link to the past. Today, the descendants of Goldie's subjects hold these portraits in high regard, considering them taonga, or precious treasures, that honour their ancestors and preserve their cultural heritage. Seeing Goldie's work at the Auckland City Art gallery is an experiene I will not forget, the way he captured the light and glow of each of his subject's skin is spellbinding.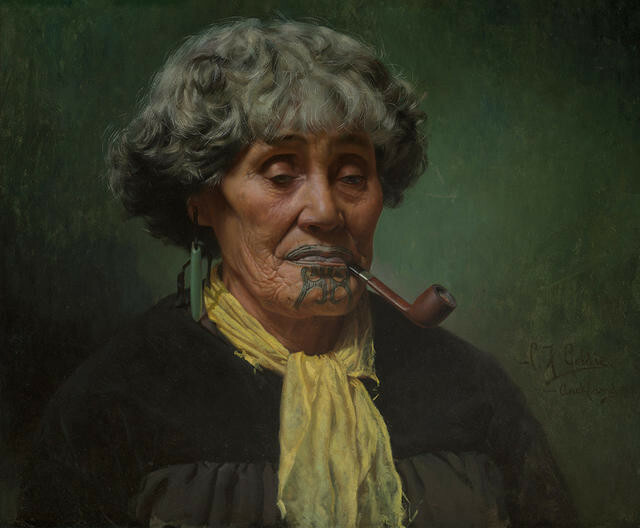 Ralph Hotere's "Dawn/Water Poem"
Ralph Hotere's "Dawn/Water Poem" conveys a powerful political and environmental protest message. Inspired by the French nuclear testing at Mururoa atoll in the 1980s, Hotere's works, including this particular piece, symbolise the atomic age, the Pacific Ocean surrounding Mururoa, and an unwavering flag of protest. The central X serves as a warning to the French military and a bold statement against their actions.
Grahame Sydney's "Cook House"
Grahame Sydney's evocative "Cook House" invokes a sense of nostalgia and tranquillity. This masterpiece captures the essence of a bygone era, where simplicity and rural charm coexist harmoniously. Its enduring popularity lies in its ability to transport the viewer to a place of serenity and reflection.
Michael Smither's "Alfred Road Bridge"
Michael Smither's "Alfred Road Bridge" holds a special place in the heart of many art enthusiasts. This captivating painting, admired for its beauty and technical skill, resonates with those who have had the privilege of experiencing Smither's art firsthand. Its presence evokes fond memories and showcases the artist's ability to create lasting impressions. I was very lucky to have met Michael Smither when he did an artist's talk here in Hamilton. A very interesting character whose art has inspired my own having seen it firsthand when a child in New Plymouth..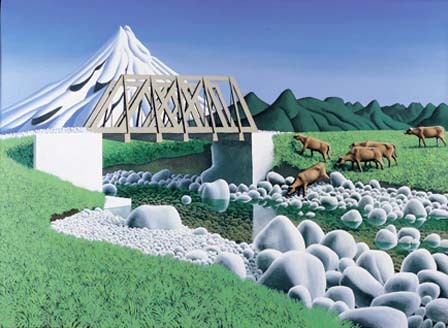 Gordon Walters' "Maheno"
Gordon Walters' "Maheno" pays homage to the traditional Māori moko, incorporating the iconic koru motif. Through a harmonious blend of abstract forms and cultural symbolism, Walters captures the essence of New Zealand's indigenous art traditions while adding his unique artistic perspective.
To Wrap It Up
These remarkable paintings represent only a tiny fraction of the wealth of artistic talent that New Zealand has to offer. And as time goes by more artists produce amazing artwork that captivates the nation.
As a young nation, we continue to forge our artistic history, and each artwork on this list stands as a testament to our evolving creative identity. With every brushstroke, New Zealand artists are making their mark on the global art scene, captivating hearts and minds with their unique perspectives, rich narratives, and undeniable talent. Explore the depths of our artistic heritage and join us on this extraordinary journey of discovery and appreciation.
Why not check out my blog Post on Some of the most Famus paintings in the World while you're here?