This week I was invited to attend a Dry Media presentation at Gordon Harris, our local art supply store. It was a full house with lots of artists wanting to know a bit more about our most basic of art tools, the humble pencil. And I can tell you there was a lot I didn't know about them.
To be able to create art you really do need to be able to sketch and draw. Almost every artist is familiar with the basic principles of lead pencils, from 2, 4, 6, 9Bs, and so on, but it doesn't stop there.
We were given a run down on how you get lead in the pencil. Yes, there were a few sniggers over that reference, but the reality of how they do was really quite interesting.
I personally have never used powdered charcoal or graphite powder. If I'd ever picked up a jar of it, I would have put it straight back down being mystified as to how you would utilize it. Our presenter showed us how quick and easy it is to use, to create large areas of colour. I can tell you now it isn't limited to simple black! Powdered charcoal or graphite powder is applied with a brush or can be rubbed in with your hand or a cloth. It's also easy to remove areas of it with an eraser. This makes it quite interesting to work with. Another use for these powders is that they can be used to transfer drawings to another item. For example, say you want to sketch something onto your canvas, you apply the powder to the back of the image. You then simply draw on the front while pressed onto the canvas.
Pencils come in different grades ranging from 9H which is the hardest through to 9B the softest. There are carrier type pencils called 'Propelling pencils' which hold replaceable leads in small sizes for fine detail and 'Clutch pencils' which hold leads that are much thicker.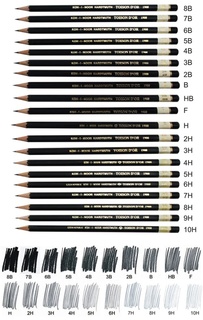 Silverpoint which I have seen before but I can imagine a lot of artists haven't, is a small point of real silver in a carrier pencil (Carrier as in it carries or cradles the small piece making it easier to hold and use).Silverpoints can be used to make lines on your canvas that wont smudge or interfere with your paint when your'e prepping an artwork.
Silverpoints were used for centuries before graphite was discovered. Its beauty is that it doesn't show through the paint like charcoal does. As a result, it is helpful for initial sketching. I personally use a watercolour pencil myself, the reason being it blends in with the acrylic paint and disappears from the canvas surface so I don't end up with the risk of lines showing through if my paint layers are too transparent. Another trick I can share is to use a colour close to the paint colour you're using for example if you used red pencil and then white paint you will get hint of the red pencil pigment appearing in the white paint while using the red pencil with red paint or a cream pencil with the white paint will be much more effective.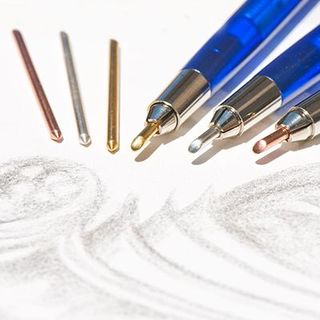 Colored pencils as an art form are also an option, right? Of course, there are numerous types and varieties of colored pencils. You won't get anything close to the beauty and quality of what you buy from an art store. However, it's ideal for kids when they're learning and not looking after their tools!
In my opinion, watercolour pencils are the best. When I'm doing watercolour art work it gives me a little more control over detail and once placed with the pencil I can add water. It's amazing how you can use a dry medium to draw what you want, then finish it off with water to blend and wash. And as I mentioned above, using them for outlining on canvas for my acrylic work its an amazing medium.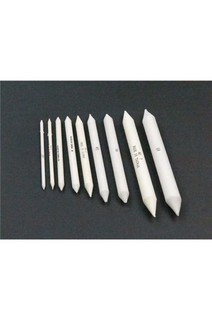 In addition, we looked at blending tools such as Stumps and Tortillions (which are compressed paper sticks as in the image above) that you can use to blend the charcoal or graphite without using your oily sweaty fingers that can ruin the finished sketch. There is also a chamois which I hadn't seen used before, but thought what a clever idea, as its useful for blending large areas and can be washed out when its dirty unlike the blending stumps and tortillions which need to work the charcoal or graphite out of their tips.
An effective type of eraser is a kneaded putty eraser, which allows you to make fine points as well as broad flat erasers out of the same piece. This gives you the flexibility to remove areas as needed. I know I have one of those and I highly recommend them. Click on the image below to see a tutorial for using these erasers on youtube
With erasers, natural rubber is better than synthetic or vinyl in that they don't slip or smear the drawing and remove the charcoal or graphite much cleaner and easier.
There's also an erasing shield. I've never seen these before but they make perfect sense for those areas you want to lift out without disturbing other parts of the sketch. It has different shapes also so you can choose to leave areas in small designs if that's what you wish to do as well. This is what they look like below, they are usually made from a very thin piece of metal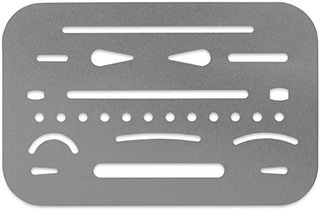 I left this presentation keen to get out my drawing kit and have a play. Some of my pencils are over 30 years old and haven't been used all that much in recent years. I need to see if I have all the bits and pieces so I can pop back to Gordon Harris and replenish my kit. I know I have blending stumps and a knead-able rubber but Im not sure about some of the other bits and pieces.
Check out www.gordonharris.co.nz if you want to purchase any of these items.