I nearly didn't enter the Miss Retro Motorama comp but got talked into it by my dear friend Karen who is part of the Yankeehaulers Car Hot Rod Club. I've never entered anything like this before, my nerves usually get the better of me, but I thought, why not? I only have to talk about my outfit and let's face it, 1950s fashion is a massive passion for me. I chose my latest make, the pink and red swing dress, as it would give me a few brownie points because it is convertible. I made it possible to be halter neck, double straps or strapless. I teamed it up with a pretty crinoline petticoat that I made myself. You can check it out here - Crinoline Petticoat Tutorial. A stunning addition was my favourite genuine red crochet vintage gloves and finished with some cute red patent peep toe heels.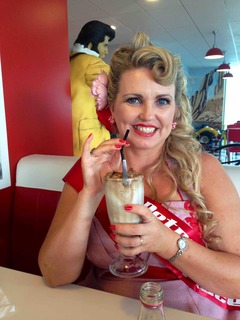 It was a little too hot to wear seamed stockings, and I applaud the girls who did; the lovely girl who came in third shared a ride in a hotrod car with me for our entrance, and she said she was feeling the heat with hers!
The other eight contestants were really lovely, and all dressed beautifully, so it can't have been easy for the judges to choose; when I get access to the photos, I'll show you the whole lineup! For now, it's just me!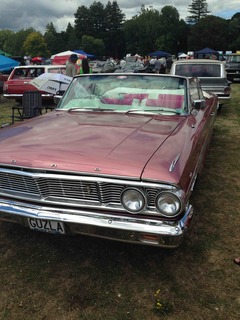 Here is the pink Cadillac I got to pose in. It was my favourite car at the event. One of the questions they asked me was which was my favourite car!
While you're here, why not check out my Dress Art Gallery with lots of retro and vintage style dress paintings.