This is a project I intended to start several years ago, in fact it may be even longer than that. The holdup was not knowing how to use the gathering function on my overlocker and each time I thought about looking it up, I wasn't anywhere where I could use the internet! Murphy's law and all!
As it turned out it was so simple it was ridiculous, just the turn of one knob and hey presto it gathers! Here is a link to help you if you dont know how to do this either OVERLOCK GATHERING
Being into the 1950's look I have many swing dresses so these crinoline petticoats are a must have item if I want my skirts to look full and to sit nicely. I have some beautiful brought ones and even an original 1950's number, but I wanted to try and sew one myself way back before I purchased my first one, so this really was an old project waiting in the wings to be done!
I tried to look up how to sew a crinoline petticoat but its not that easy to find exactly what I was after, there were videos on how to make petticoat skirts which were of some help and a couple of written tutorials of how to make one but still not quite what I wanted, so I made up my mind to just go with my instincts and take a few measurements off one of the petticoats I already had.
First up I started with an old school half slip from the op , a bit like this one, but I had already cut it up before I thought I really should show you what I used. (Ok so Im notorious in forgetting before photos!) The one in this photo doesn't have as strong elastic as the actual one and I think that is important, as it needs to hold a bit more weight with all the crinoline added to it.
Measuring my actual crinoline I chopped off the top of the half slip at 15cm to make the soft top part
I purchased 2 metres of 140cm wide crinoline and cut a piece 30cm x twice the width of the half slip
The next tier is 15cm and four times the width of the half slip. Or twice the second tier
The bottom tier is eight times the half slip width or twice the third layer, measuring out to 16.8 metres, so quite a bit of sewing to get that piece on, look at it here, I nearly couldn't see what I was doing.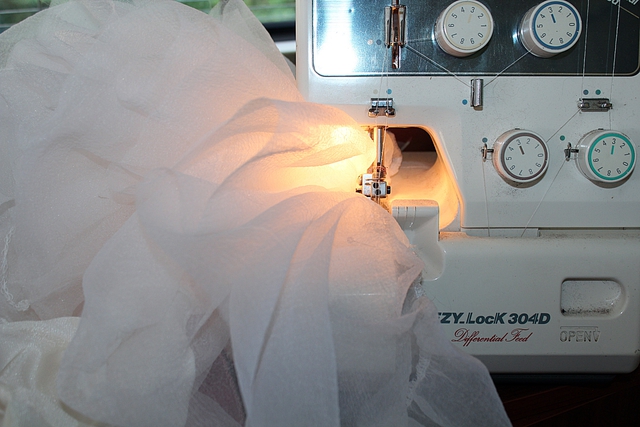 To put it all together, I joined each tier up to make circles, then gathered using the overlocker, each layer I measured into four equal sections and pinned to the layer above, overlocking them together. I then hemmed the final layer and sewed up a centimetre of fabric which also helps to give it more bulk at the bottom. Creating the perfect crinoline petticoat.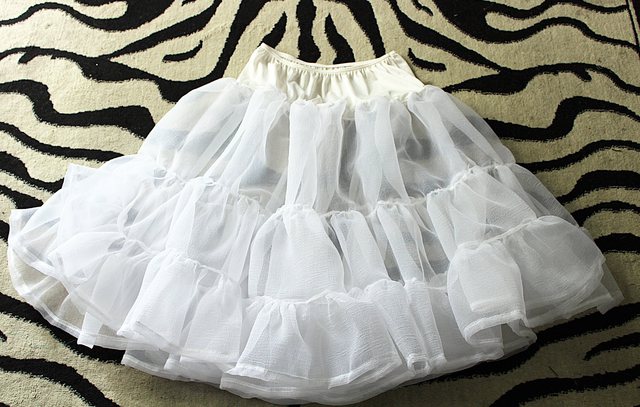 Oh and added a whole heap of satin ribbon with a decrotive stitch, it seemed forever sewing that on! But it made it look more finished!
If you found this post useful, Id be delighted if you clicked on the button below and dnated a small fee