As a pet portrait artist based in New Zealand, I have seen the joy and emotion that a pet portrait can bring to people's lives.
A pet is not just an animal but a beloved family member. And most people have at least experienced the joy a pet can bring them. Losing them can be so painful, and we rarely outlive them ourselves.
So a picture of your furry friend is a way of immortalising their unique personality, quirks, and beauty, allowing you to cherish their memory long after they are gone.
As a New Zealand contemporary artist, I believe art isn't just about hanging pretty pictures on your wall. Instead, they should tell a story and evoke emotions. And when it comes to a pet portrait, it should be a work of art that captures the essence of your pet's spirit. After all, it's a way of celebrating the bond you share with your furry friend and the joy they bring to your life.
When you commission a pet portrait artist in NZ like me, you are not just getting a piece of art but a personalised experience. I work closely with my clients to understand their vision for the artwork, incorporating their pet's unique traits and personality into the portrait and leaving out the elements that distract or spoil the image, like in this portrait of Princess Timothy Anne (Yes, that really was his name!)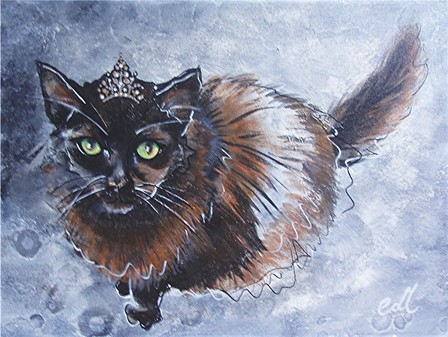 In the photo, an unattractive green garden hose was visible alongside the cat. And for a fun element, a tiara was added to the picture to represent the "royalty" aspect of the cat's name. Oh and don't forget to check out these fun cat tiaras you can buy for your cats.
Then this cat, who really was wearing the wings. He was such a unique cat with his distinctly different-coloured eyes. The addition of the headband was to make more of the costume aspect as some people thought he was deceased and an angel furry friend. He has since passed on, and his owner treasures this pet portrait and the wonderful memories it evokes.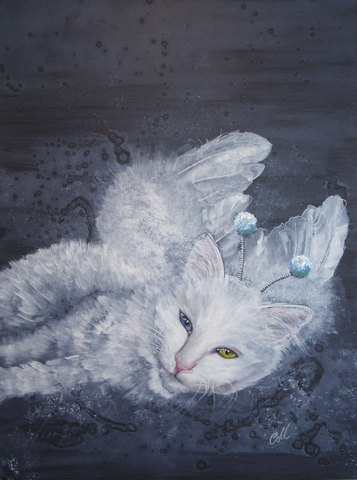 In this next painting Fafi the gorgeous wee Chihuahua, was wearing a cute Santa outfit and was already the perfect portrait. It was just the background elements that I removed, putting the focus back on Fafi herself.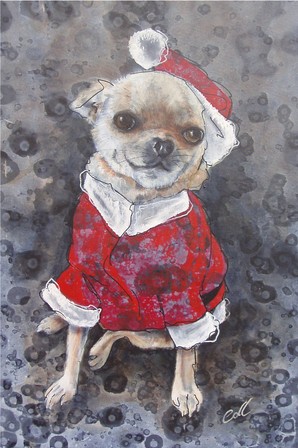 So whether it's a whimsical portrait of your cat or a vibrant painting of your dog, I strive to create artwork that tells a story and evokes emotions.
And remember, a pet portrait is not just a decoration but a conversation starter.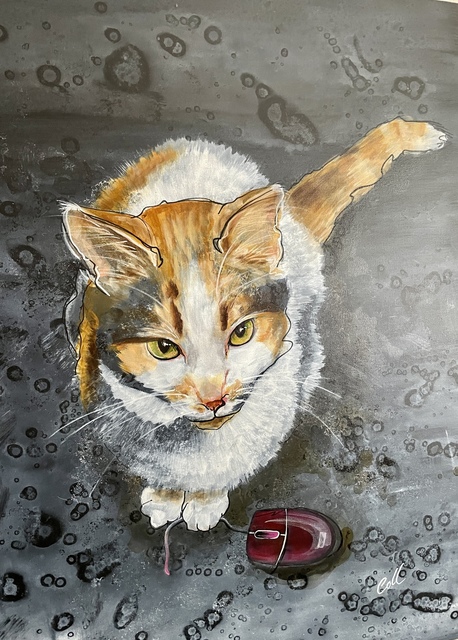 Many often ask about my beloved Pablo's large picture in my lounge. He's been gone a while now, but this painting makes me happy every time I look at it. I recall the silly things he would do. One of which this painting was based, where he would chew through every computer mouse cord until I gave up and went with a laptop and mouse pad!
You Can Order your Own Pet Portrait

A painting of your dog or cat, or for that matter any furry friend, adds personality and character to any space, making it a unique and memorable addition to your home. Every time you look at the portrait, it will remind you of the happy memories you shared with your pet, bringing a smile to your face and warmth to your heart.
So if you're considering getting artwork created of your beloved pet, a pet portrait is not just a piece of art but a celebration of the bond between you and your furry friend. As a pet portrait artist in New Zealand, I strive to create artwork that not only captures the likeness of your pet but also reflects their personality and spirit. It is a way of immortalising your pet's memory and bringing joy and emotion to your life for years. Take a look at my previous artwork here and the ones I created for sale as examples of what I can do.
Ultimately, I want you to preserve your pet's memory, so why not get in touch and let's talk about a unique pet portrait?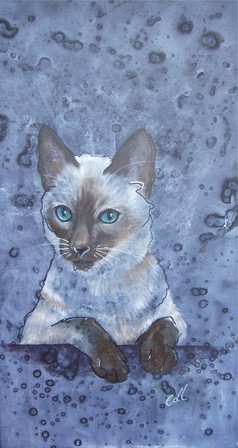 The Siamese (Donated to SPCA)