THE MEANING OF FLAG DESIGN & COLOURS

Every now and then the debate comes up as to whether or not we should change our national flag here in New Zealand. A lot of people want to change it because it's so similar to the Australian flag or they want to see something that shows what we stand for as a country on our own merits rather than having affiliation to the UK with the Union Jack as part of it. Please keep in mind these are necessarily my views I'm just speaking broadly of what I see and hear in general. I have entered the arena myself with my own version of the flag design when it was suggested that we change our flag to a very simple black design with a stylized silver fern on it. The country was divided and for me I felt they were not looking at it subjectively in that if we were to change it why not think further outside the square and come up with more options than the black one or the old one. My design incorporated the clean green image with blue skies using a crisp bright green blending into a rich blue with a silver fern design in the shape of a kiwi. It wasn't that I thought it should be that design just that we should consider other aspects and other designs. The local newspaper picked up on it and did an interview with me and ran the article with a photo of me and my design, creating yet more controversy! I got emails and phone-calls, some to congratulate me on winning the competition (What competition, I guess some people don't read the stories properly!) others to support my concept and/or design, and also a bit of abuse. It was presumed by some that I was campaigning to change the flag and was anti what the flag stood for. Fortunately I was able to talk to some of these people and explain what I was doing, but it did show me how things can be blown out of proportion and interpreted in so many different ways.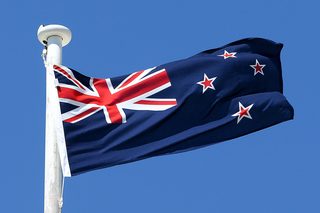 So what is behind a flag design what is the reason why certain colours or designs were put on national flags? The degree to which these are relevant varies widely and, mostly, has no bearing on the current use of the flag in this day and age. Some of the stories about flags are actually outright false or completely inaccurate.

Generally speaking, you can attach some meaning to certain symbols. For example, the Cross in the flags of Greece, the Scandinavian countries and British flags is a symbol of Christianity. The Arabic writing on the flag of Saudi Arabia "There is no god but God, Mohammed is His Messenger" and "God is Great" on the flag of Iraq are also Islamic and related to religious purposes. The you have the Star of David in the flag of Israel which is an ancient Jewish symbol.

There is the communist derived flags which can include a hammer and Sickle, as the flag of USSR, the former Soviet Union and the flag currently used by Angol. This is also depicted as a red background on flags like China and Vietnam.

The use of the Union Jack which is the Britsh flag on the New Zealand and Australian flags symbolizes our being under British rule.

You can get a heap of information about different countries and their flags here at