Skulls and Crossbones
What does this mean symbolically? The skull and crossbones is a symbol consisting of a human skull and two bones as in long bones which are crossed together under the skull. It is generally used as a warning of danger, usually in regard to poisonous substances.
Actual skulls and bones were used to mark the entrances to Spanish cemeteries. The practice, dating back many centuries, led to the symbol eventually becoming associated with the concept of death and is often used on things signifying this. Its also seen as a bad symbol in that its associated to pirates and used in tattoos on bikers etc.
Artists often use skulls as symbols in their art and any amount of different takes are created on this common symbol.
My friend and fellow artist, Mark Curtis uses the skull in some of his art, in fact his glitter skull 'For the Love of God Gimme Head' (A bit of a piss take on the Damien Hirst Diamond encrusted skull.) was a finalist in Waikato Contemporary Art Awards a couple years back. Mark works in glitter in a lot of his work, creating amazing carpet installations and jazzing up his other artworks with it. I love Mark's artwork and am the proud owner of one of his smaller pieces!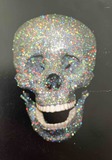 I recall going to an exhibition opening at the Govett Brewster Gallery way back when I was in my teens where the artist had used doll parts and goat skulls complete with horns in his work. I didn't know quite what to make of the doll bodies crowned with animal skulls, but instantly recognise his work to this day, its so distinctive.
A quick search on goggle will bring up numerous images of skull art, in fact its amazing how many artists actually use them in their work.
As an artist in general though, if you paint or want to paint human faces you need to understand the anatomy of such things as the skeleton, muscles and well everything under the skin, as that can e the key thing that makes your work more realistic. For me, I don't aim too much for realism in my people, I mean look at Boozehag with her crazy shaped head and often Barbie like proportions, makes life so much easier!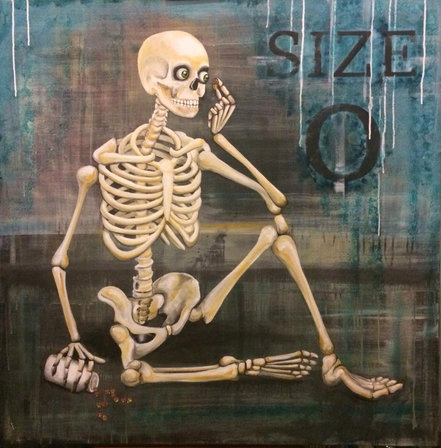 Size Zero
The main image is of a Sugar Skull painting titled "Liar Liar" by myself, Collette Fergus and here is another mixed media piece I created titled "Metalhead"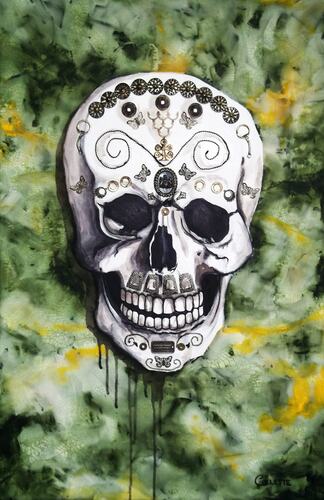 Metalhead