You hear about songs being reworked all the time, there is always a new version or 'dance mix', but no one talks about paintings being reworked much. What are your experiences with this? Personally, I sometimes do, as well as several others I know, but we don't really talk about it.
What are the pros and cons?
Does this mean that the work wasn't finished properly the first time or that the artist changed their mind? As I'm only able to go on my own experience in this regard, I'd be interested in hearing others' points of view. To me, it's more about evolving, or changing my mind, or seeing something from a new perspective. In addition, I might change the color if it doesn't sell and comes back to me for a while.
Today, I'm writing about this since I've decided to change a painting that's received some negative feedback. Generally, I think most people like the painting at least thats the feedback I've had. More than anything, it has a preconceived notion that the cat in the picture is deceased since it is wearing angel wings, which is simply not true.
When I saw the photo of him with his angel wings on, I felt compelled to paint it as it was. He belongs to someone in the operatic world who loves dressing up, and of course her cat too gets to play with costumes! As a result of the negative vibe, this 'dead cat' portrait needed some reworking. My change was to add a sparkly headband and rename it so that it reads more like he is playing dress-up than being an angel.
The original version can be seen in photo One and the head adornment can be seen in photo Two. I was able to fix this issue in a relatively short amount of time. It made a huge impact on the feeling of what was going on. Here is 'Dress-ups'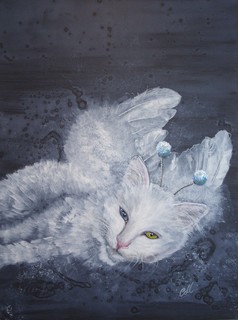 With the ability to x-ray paintings, more and more stories are being reported about famous paintings that have been altered. Two earlier versions of the Mona Lisa are hidden beneath her beguiling smile, for example.
Watch the video on the many layers of the Mona Lisa on YouTube by clicking the image