Orange is one of the most vibrant colours there is. It's a combination of red and yellow and appears between these two colours on the colour spectrum or wheel, so naturally it shares some common attributes with those colours. Orange denotes energy, warmth, tropical fruit and of course the sun. Orange however has a bit less intensity or aggression than red and is calmed down by the lighter and more cheerful yellow.
As a warm colour orange is a stimulant — it stimulates the emotions and even the appetite so its a great colour to use for restaurants and cafes. Orange can be found in nature in the changing leaves of Autumn, Halloween is about orange with its pumpkins; the setting sun is all about rich warm oranges, and the skin and meat of citrus fruit especially, well, oranges!
Orange represents the changing of seasons so in that sense it is a colour on the edge, its the colour of change between the heat of summer with brighter, bolder oranges and yellow oranges and the cooling down to winter with warmer burnt oranges and red oranges.
Using Orange:
If you want to get noticed without screaming look at me, then consider the colour orange — it demands attention without the brashness of reds or the glitter of metallic's.Softer oranges like peach are more soothing. The peachy oranges are less flamboyant than their redder cousins but they're still energetic hues.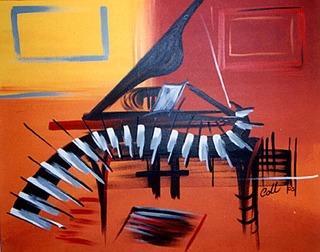 In keeping with its transitional appearance in nature, you might use shades of orange to indicate transition or a bridge between two opposing factors.
How to use Orange with Other Colours:
While Orange and Black are traditionally Halloween colours, orange is out standing when teamed with its complimentary colour Blue. Putting Orange together with reds and yellows can be a fiery hot combination or, in quieter shades, a fresh, fruity experience. It becomes tropical when teamed with greens.Its not a good idea to mix it with Pink however unless you want to recreate a vibrating, 60s psychedelic look.Try adding a hint of orange with a rich purple or vice versa with lots of yellow or white for an interesting combination.
Orange Colour Palettes:
Other shades of the colour orange include pumpkin, gold, flame, copper, brass, apricot, peach, citrus and tangerine.
The complementary colour to orange is actually azure blue, which is a slightly more greenish blue than blue blue. Orange pigments are largely in the ochre or cadmium families, and absorb mostly blue light.
Burnt orange which has darker brown overtones was really popular in the 1970s especially in interior design, and in often associated by the media with this period. When we think about hair colour, its really burnt orange we are talking about when we discuss a 'redhead' as its not actually red at all.
Did you know that Orange is often quoted along with Purple and Silver as a word that doesn't rhyme with any other word in the English language? However, the Oxford Rhyming Dictionary does show both Orange and Silver have half-rhymes (such as lozenge with orange and salver with silver).
Underpainting your work with orange can give it a fabulous warm glow to the finished artwork however avoid it for using under skin tones when painting people.
Why Not Check Out Some Other Colours Too -
50 Powerful Shades Of Grey? The Thrilling Colours In Art
Beautiful Blue: The depth of Sea to the Sky and Beyond
In the Pink: Celebrating Valentines Passionate Colour
Shades of Purple: A Trip into the World of Royalty
Stunning Silver: The Best Metallic Colour with Class and Glamour
The Best of Black: The Mysterious and Luxurious Shade
The Gloriousness of Gold: Unleashing its Luxury and Passion
Yellow: The Happy Glowing Hue That Makes Warmth, and Inspiration
What Is The Colour Burgundy Or Claret, Colours Or Wines?
Whiter Shade of Pale: Exploring the Simplicity of White
Rich as Red: Exploring its Many Fiery Shades
Glorious Green: The Awesome Yet Envious Colour of Emeralds
And while you're here - Touching on Colour Mixing